Regular price
$79.95 USD
Sale price
$64.95 USD
Unit price
per
Sale
Sold out
Greetings from Tabletop Stronghold.
Introducing the Tabletop Stronghold MINI Competitive Terrain Set – Perfect for smaller skirmish games like Kill Team or just adding more competitive terrain to your table!
Elevate your Warhammer 40k experience to new heights with this precision-crafted terrain set from Tabletop Stronghold. Designed specifically for competitive play, this terrain set has been meticulously crafted to provide the perfect balance of aesthetics and functionality, ensuring that your games are not only visually stunning but also strategically challenging.
Key Features:
Versatile and Modular Design: The Tabletop Stronghold MINI Competitive terrain set is engineered with versatility in mind. It features a modular design, allowing you to create a variety of configurations to suit your gaming needs. Including the option to remove or leave the windows on the first floor when assembling.

Competitive Gameplay: Designed with competitive Warhammer 40k players in mind, our terrain pieces offer balanced line-of-sight blocking, cover, and strategic positioning. This means every battle will be a true test of skill and strategy, providing a level playing field for all players.

Immersive Detail: The intricate designs and fine details on our terrain set create a visually stunning backdrop for your battles. Every piece tells a story, from crumbling ruins to futuristic fortifications, bringing your tabletop battles to life.

Ideal Size: Our terrain set is designed to perfectly complement your Warhammer 40k gaming table. With a balance of large, medium, and small pieces, you can effortlessly create a battlefield that feels immersive and challenging.

Tabletop Stronghold Standard MINI Terrain Set

is designed for wargames such as Warhammer 40k (28mm), Kill Team (28mm), Star Wars Legion (32mm), Warmachine (28-32mm),  Stargrave (28-32mm), Starfinder (varies) or Infinity (28-32mm). 
All ruin levels are 3.5 inches apart, and the windows on the first floor can be removed or left in when assembled.
This kit includes 
2 - 10"x5" bases.
2 - 9"x6" bases.
1 - 6"x4 base.
2 - medium 2-level corner ruins 7" Tall, 6" wide.
2 -medium 2-level U-shaped ruins 7" Tall, 6" wide, 4.5" deep.
2 - small 1-level corner ruins 3.6" Tall, 3" wide.
2 - small shipping crates 2" Tall, 4" wide.
This terrain set comes unassembled and unpainted. You will receive a scannable QR code for the instructions with your order.
Please Note: NO models are included. Models in photos are examples of what you can do with your Terrain set.
Tabletop Stronghold's Laser-Cut Terrain Sets are more than just a gaming accessory; they're an investment in your tabletop gaming experience. Whether you're a seasoned competitive player or just starting your journey in the grim darkness of the far future, our terrain set will transform your tabletop battles into epic conflicts, where every decision matters.
Share
View full details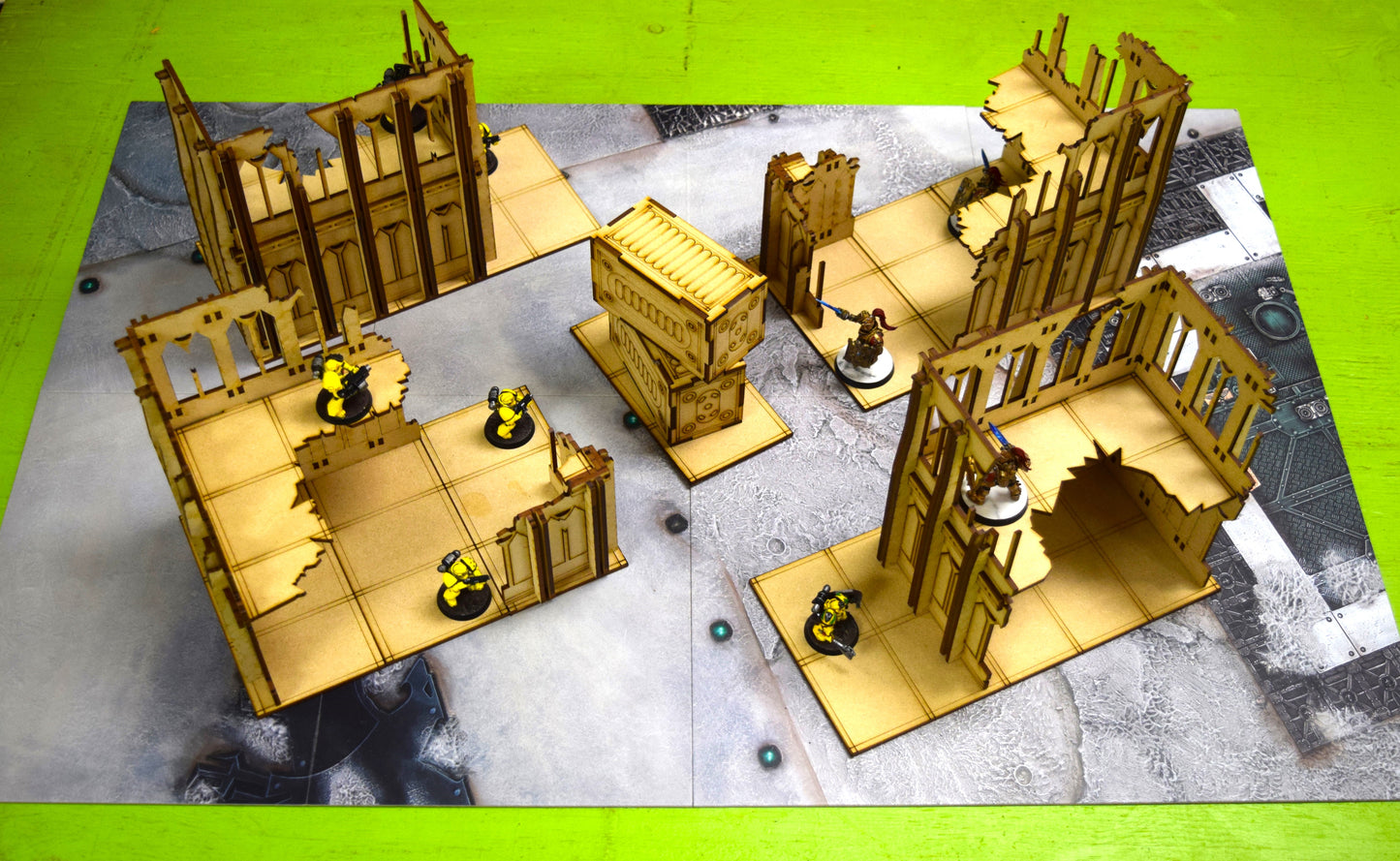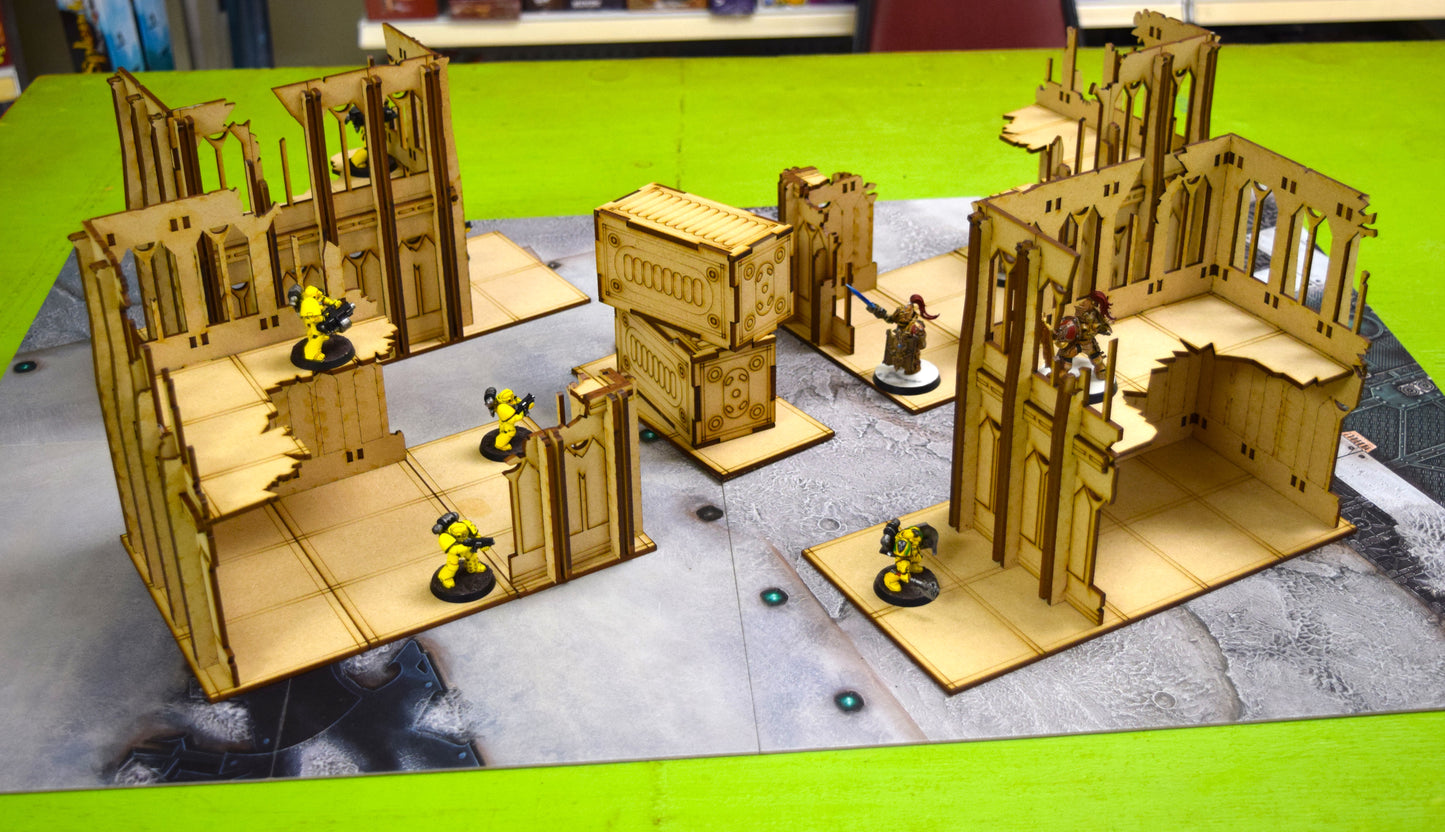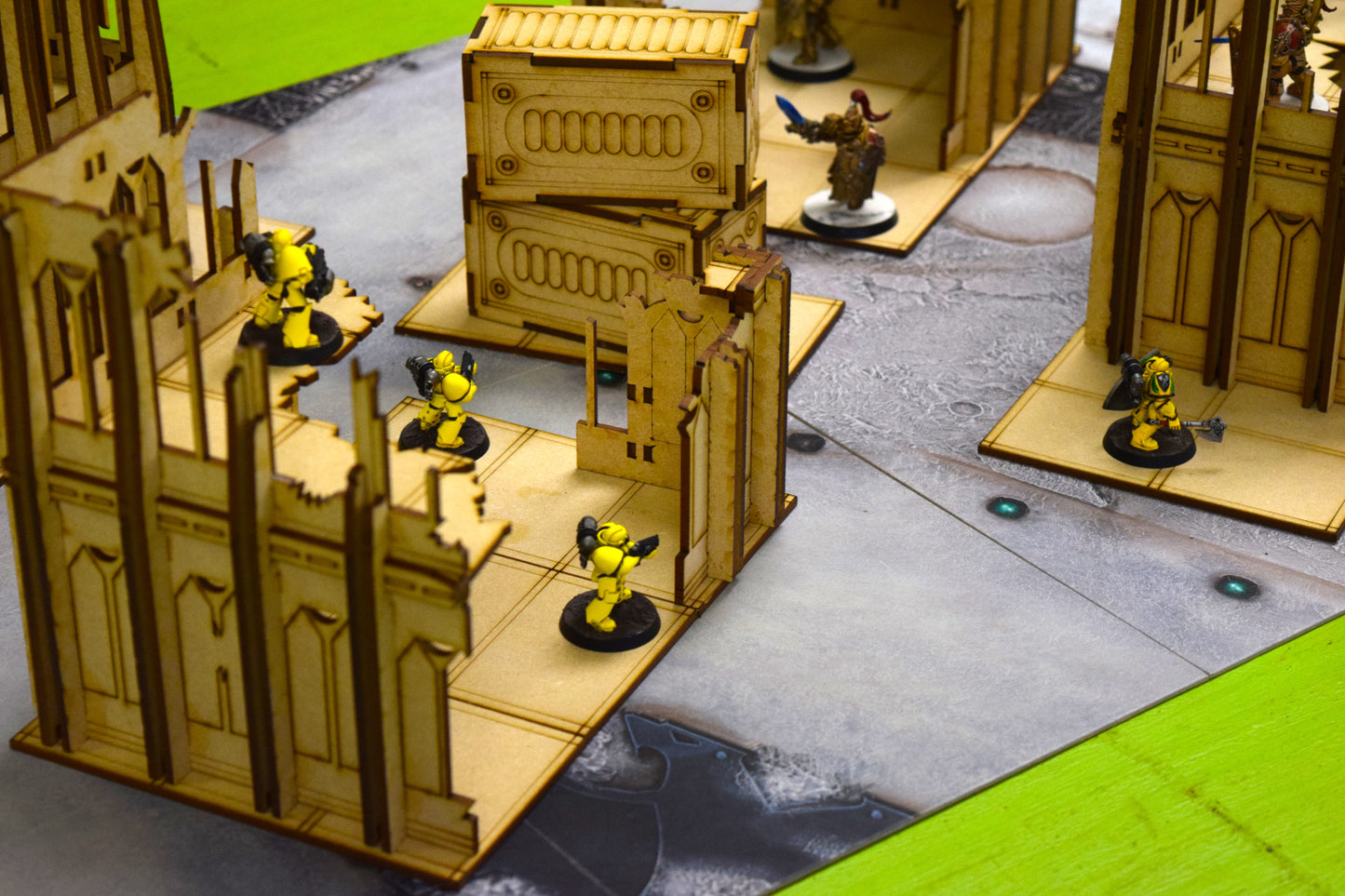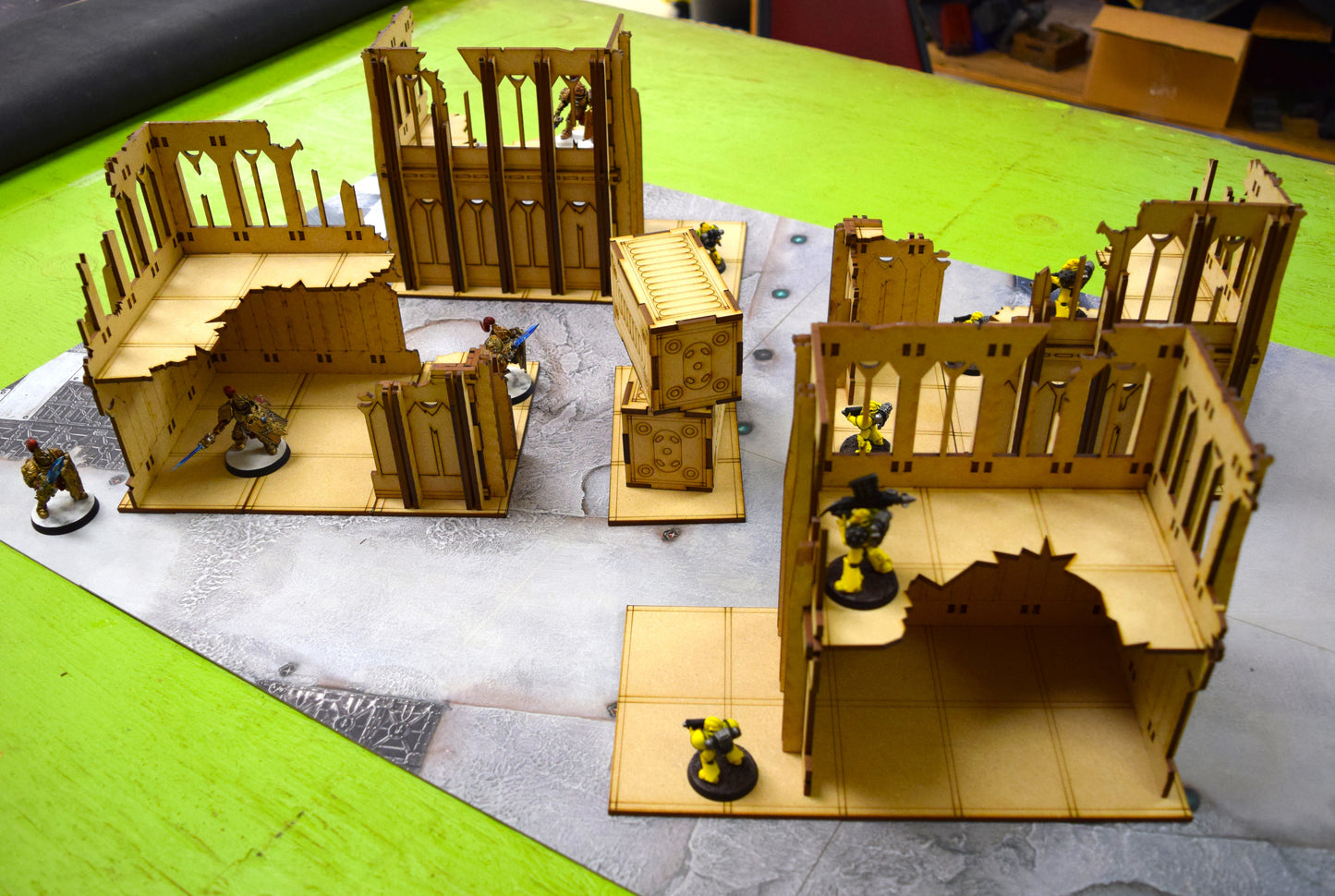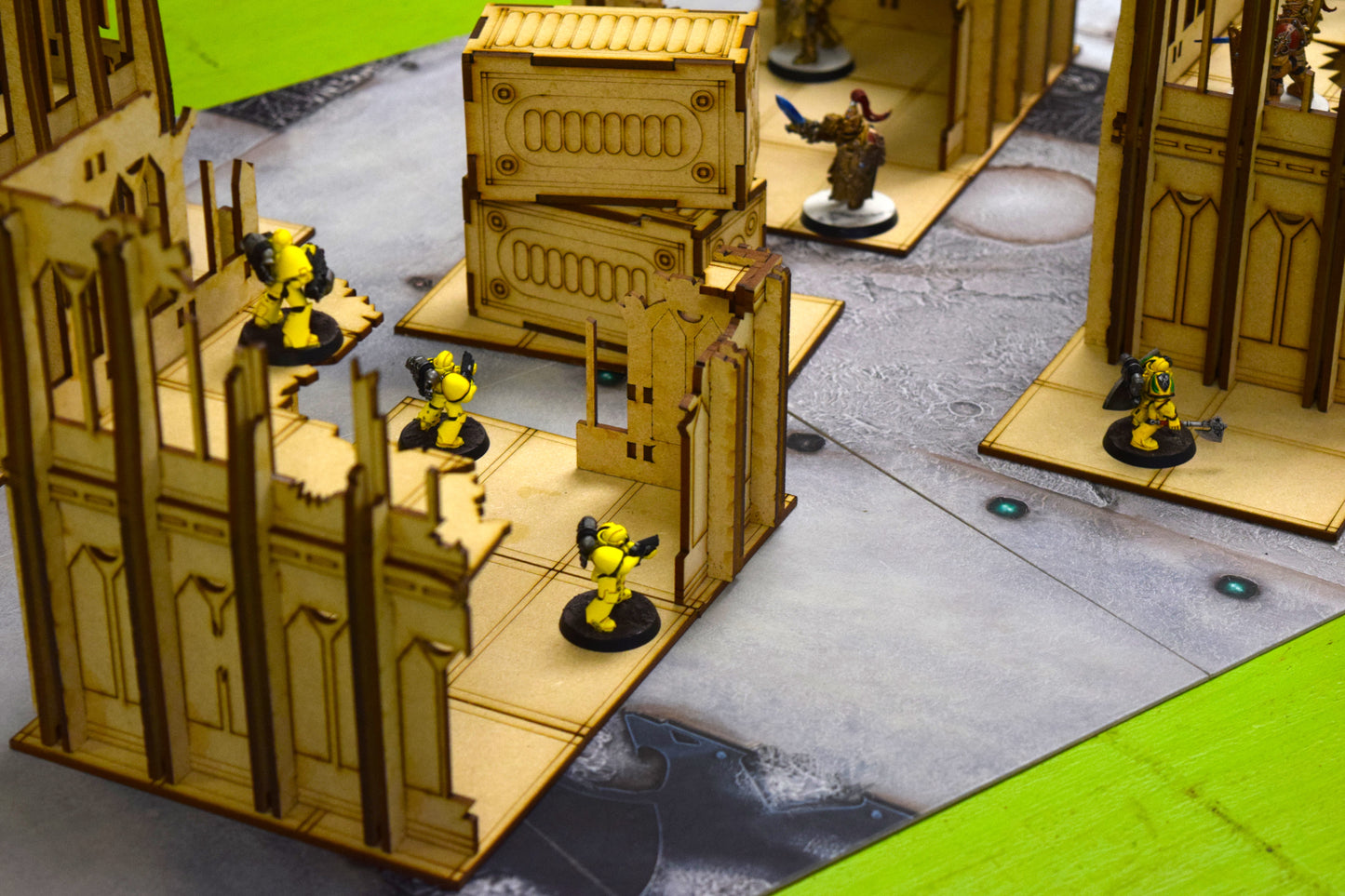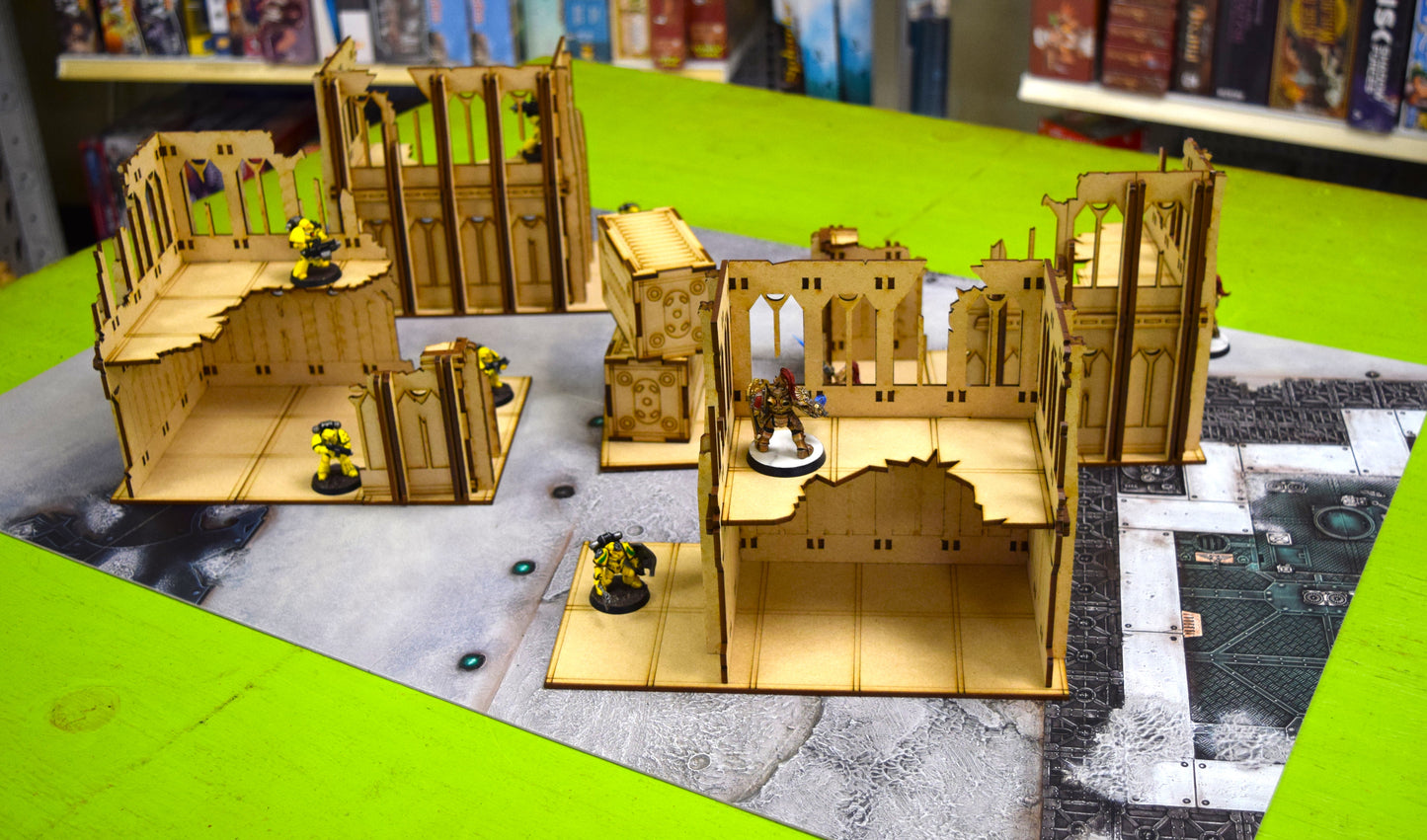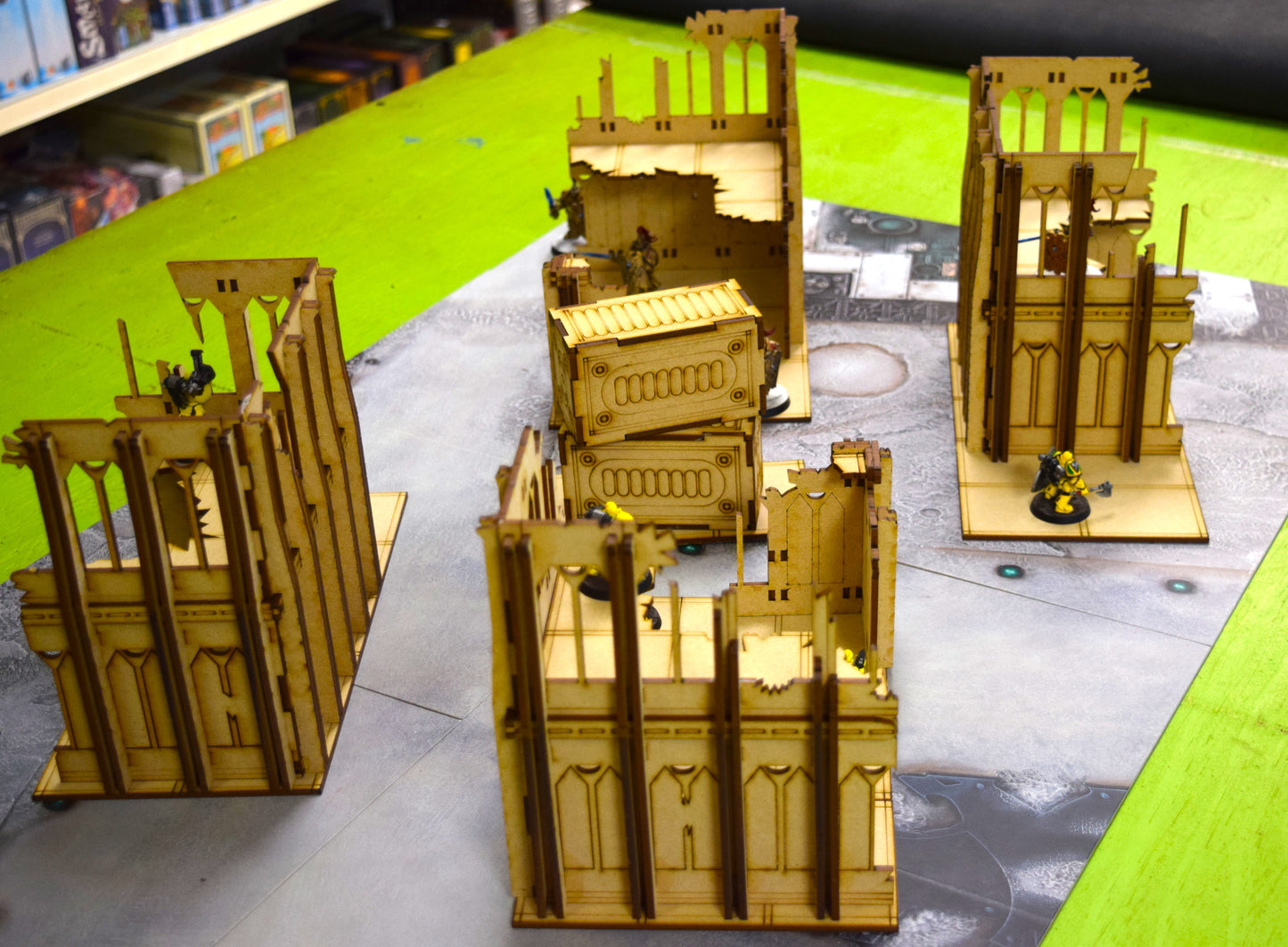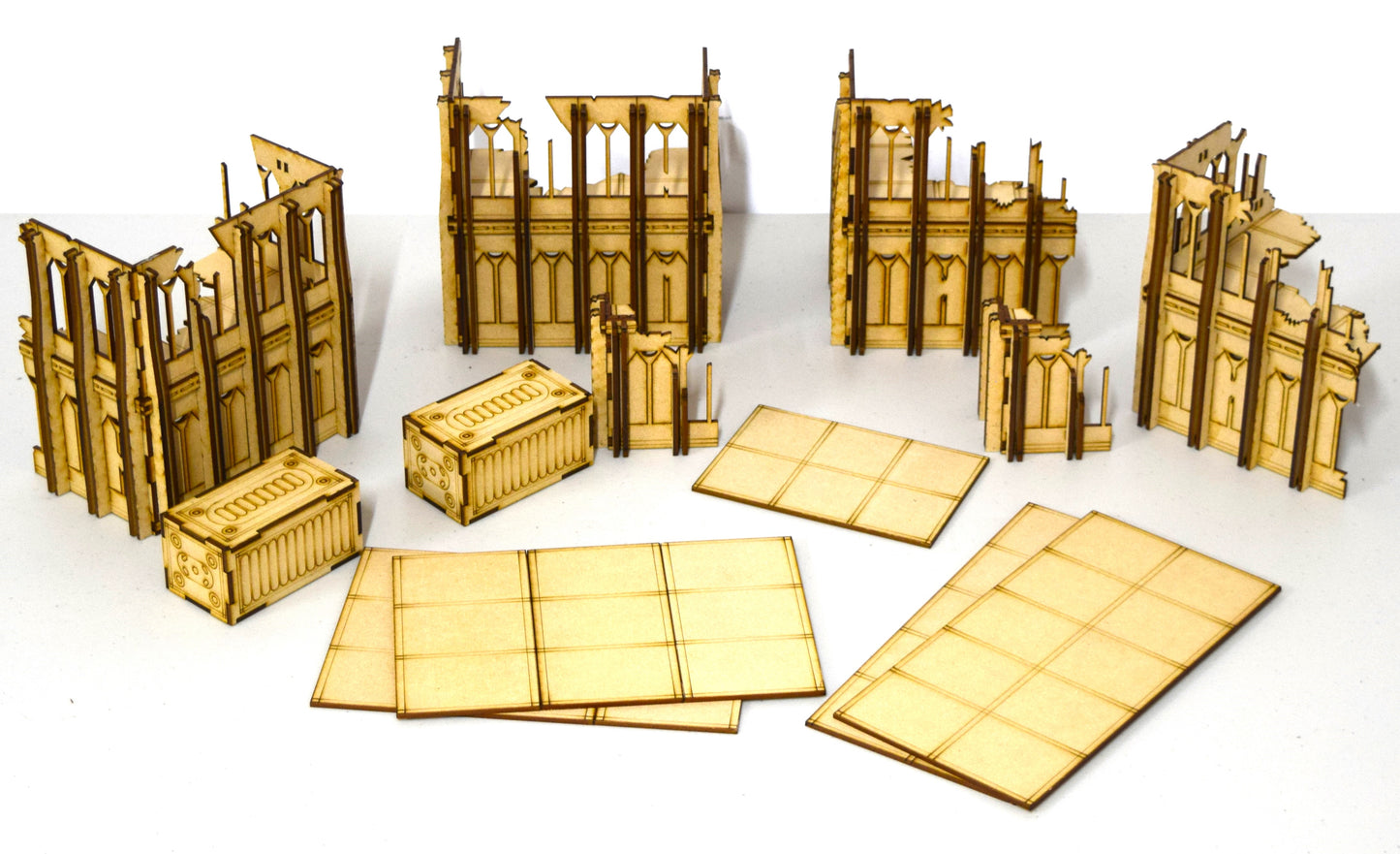 Collapsible content
SHIPPING

Orders are usually shipped within 1-4 business days and shipping on all orders in the USA is free!