Regular price
Sale price
$99.95 USD
Unit price
per
Sale
Sold out
Greetings from Tabletop Stronghold. We're finally reopening after the workshop fire. Tabletop Stronghold had to relocate and replace everything but we're finally up and running again!
MagCase MINI 2.0 is an easy solution for moving/displaying your army or a ton of Kill Teams. Although shorter than its bigger bothers MagCase MINI 2.0 is still very capable for its size.

MagCase MINI 2.0 is both a carrying and display case using steel trays and magnets! Simply glue the included 3x1.7mm magnets or your own magnets under the bases of your minis. The magnets make them stick firmly to the steel trays, ready to be transported or proudly displayed.
As with all new MagCase 2.0 models, The MagCase 2.0 comes with the new MagCase 2.0 trays made of a single piece of steel and are powder coated.
Please Note: MagCase 2.0 trays are not compatible with MagCase 1.0.
Customizable tray heights for your needs - trays easily slide into any of the 1/2-inch rows in the case.
MagCase MINI 2.0 is able to hold most 32mm heroic scale miniature armies even with the reduced height. Even though it may be called MINI it's still capable of transporting imperial knights!
Usable internal space with a tray in the bottom row: 7" H, 8'' W, 12'' L.
External size including handle: 9.5" H, 9.5" W, 12.75" L. Usable area of each tray: 8" W, 12" L.
Weight: approx. 7 lbs.
Stunning large acrylic front panel for easy viewing of your models. Easily open and close the case using the velcro straps at the top of the acrylic panel.
All MagCases come with removable MDF dowels to ensure the trays don't move around or bump the acrylic front panel.
MagCase MINI 2.0 is partially assembled - the only tools needed for assembly are a Phillips head screwdriver and a pair of pliers.
You will receive a scannable QR code for the instructions with your order.
Please Note: NO models are included. Models in photos are examples of what you can do with your MagCase MINI.
MagCases are a cottage industry product and don't come from a big factory. As such, there may be slight variations in the material color and/or tray dimensions. These are generally imperceptible but we wanted you to be aware.
If you have ANY questions feel free to message me. Happy wargaming from Tabletop Stronghold!
Share
View full details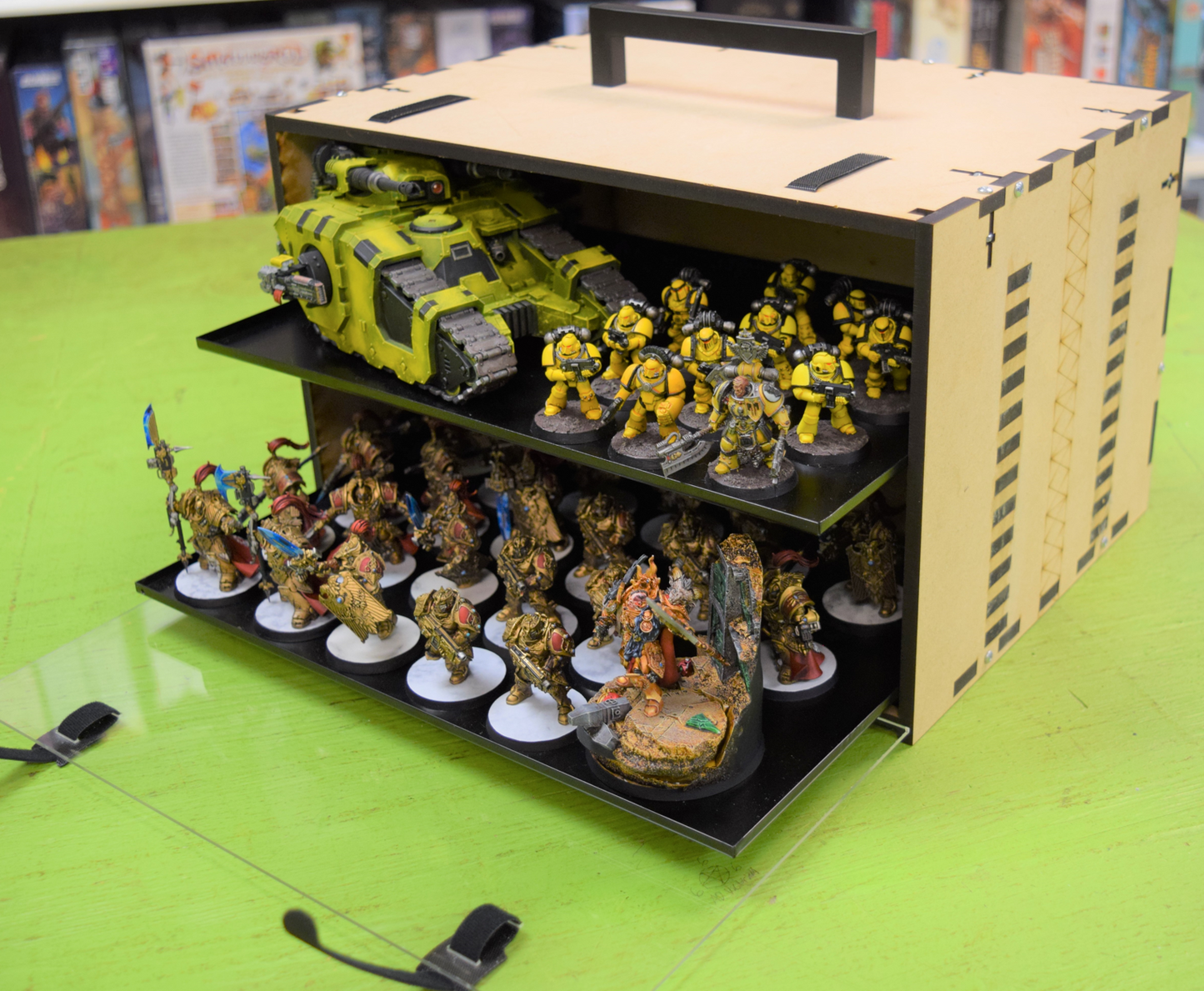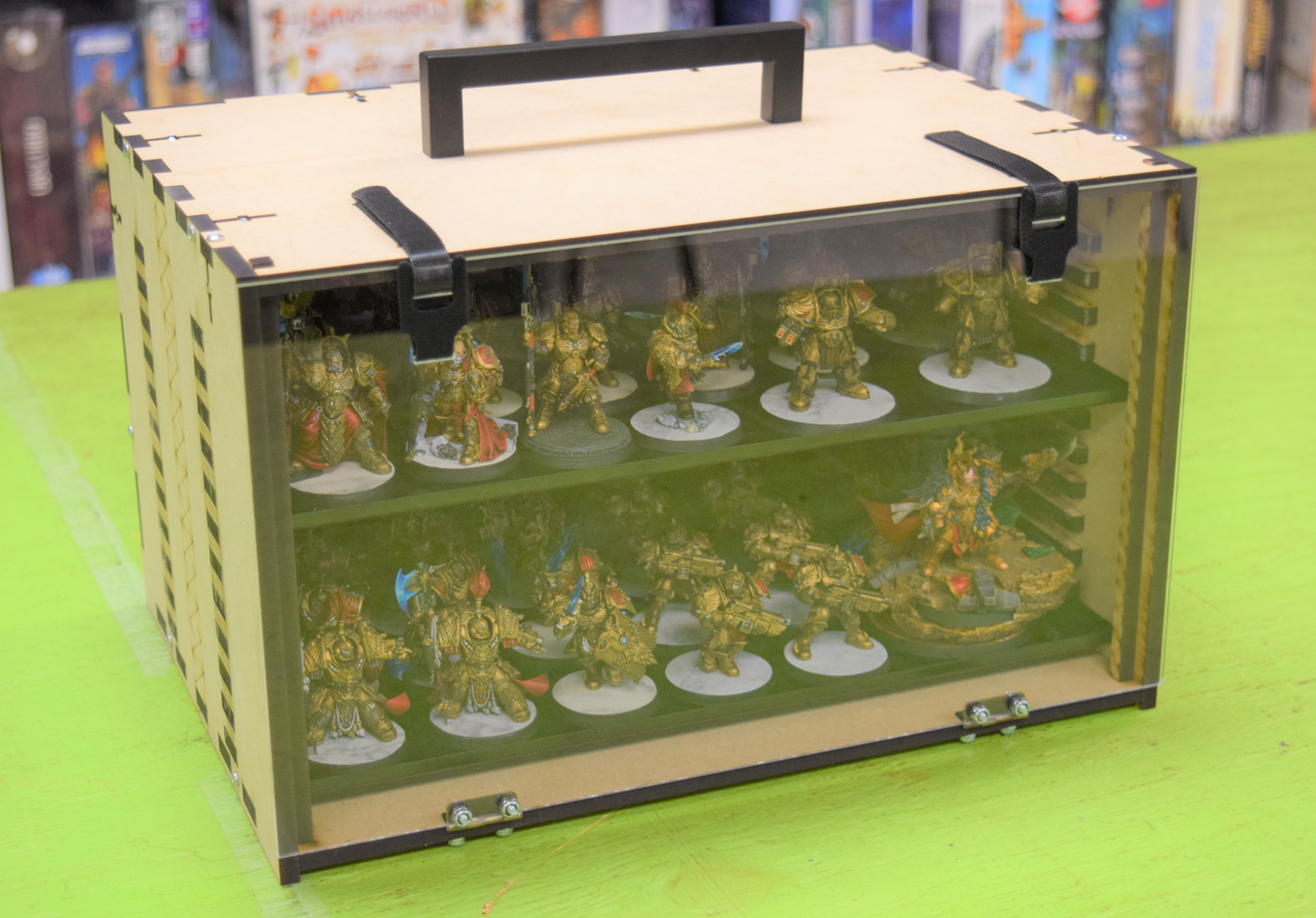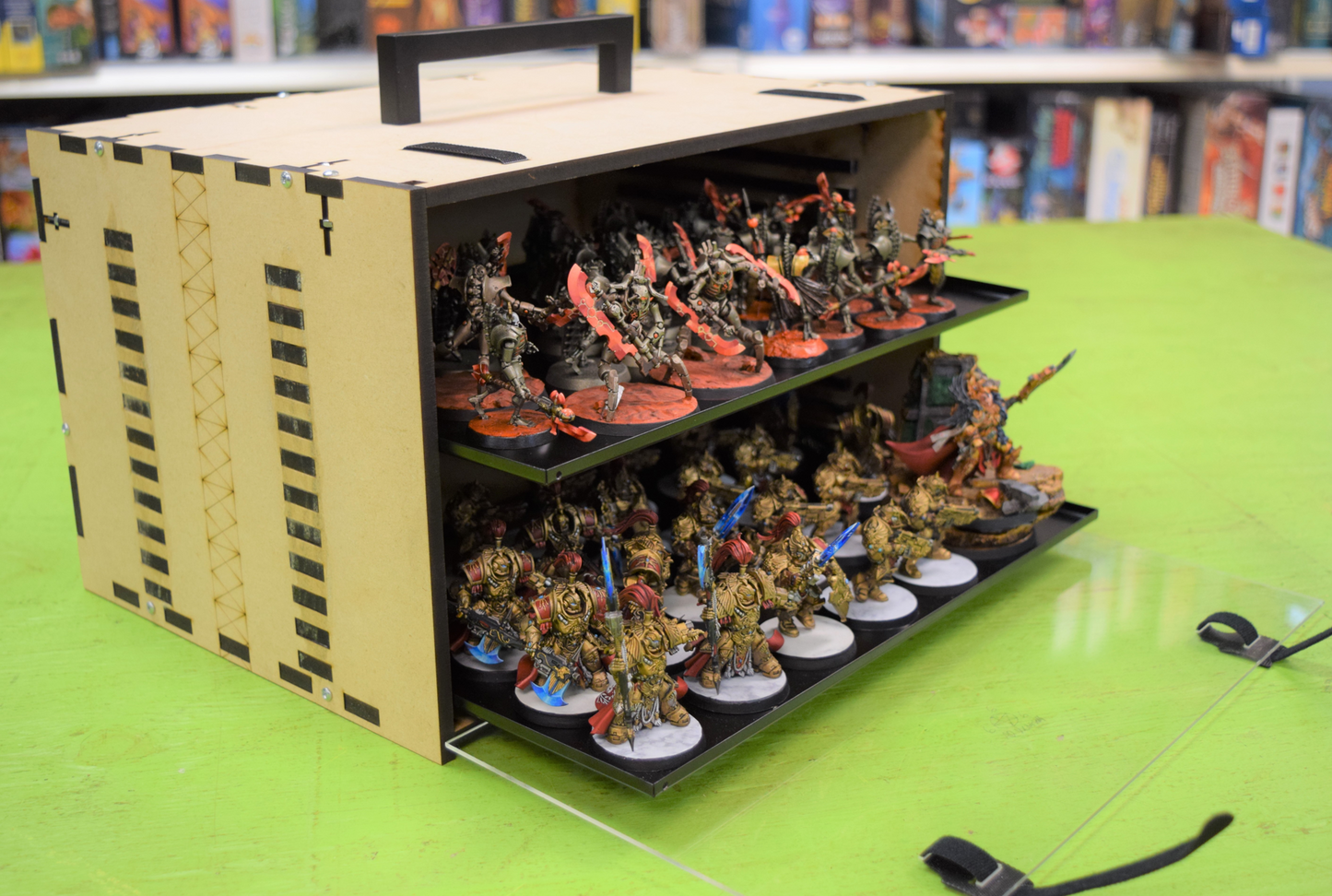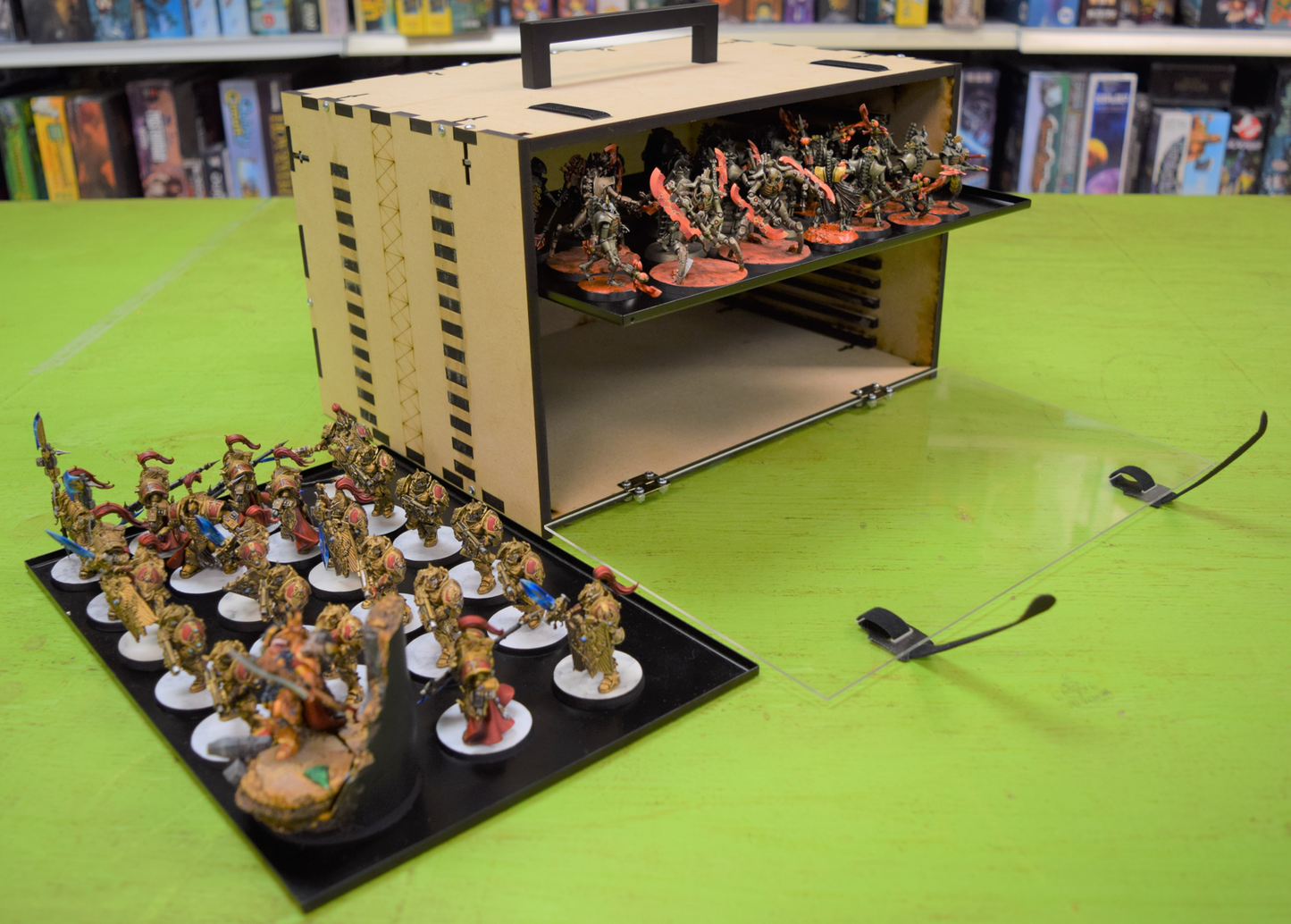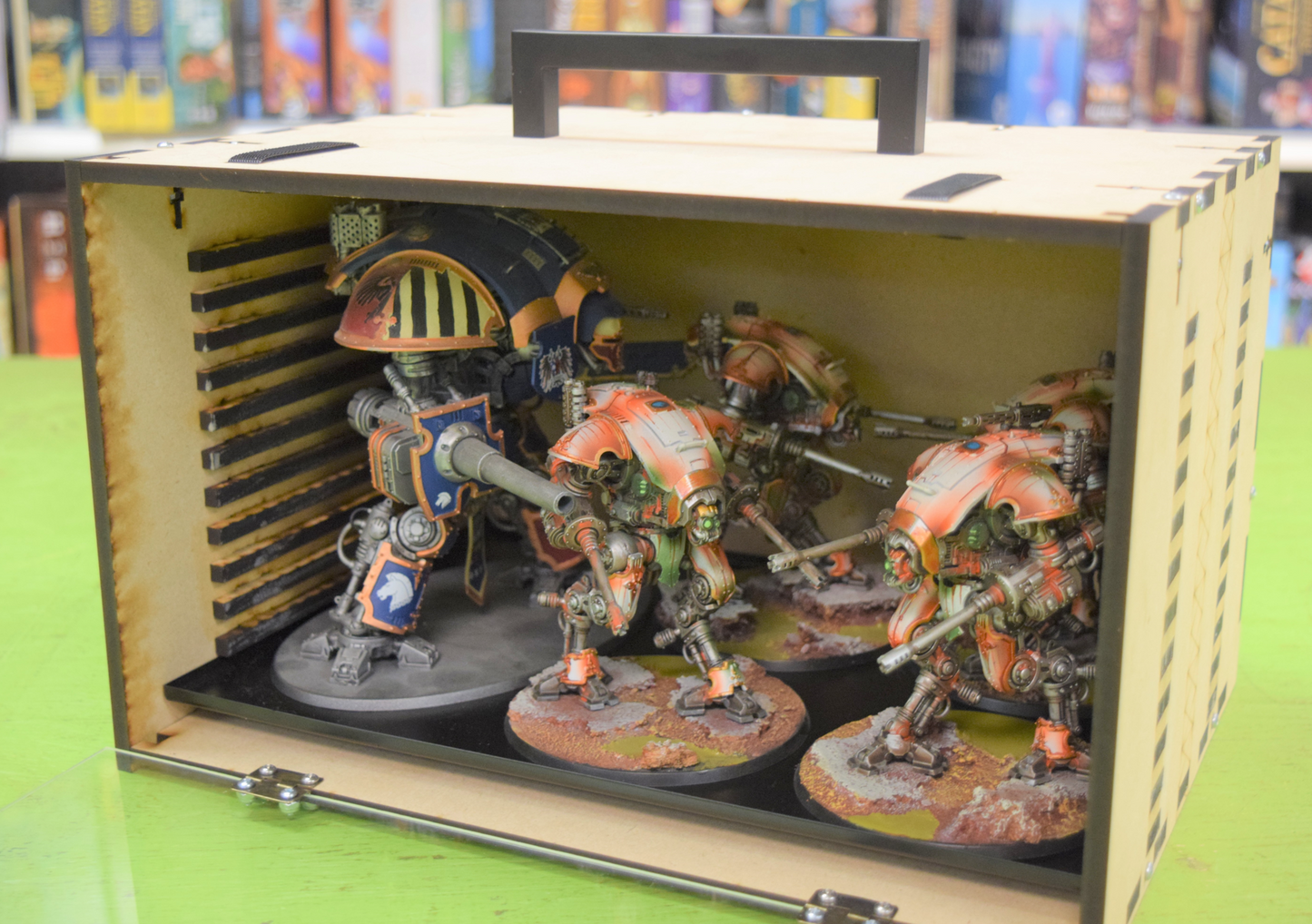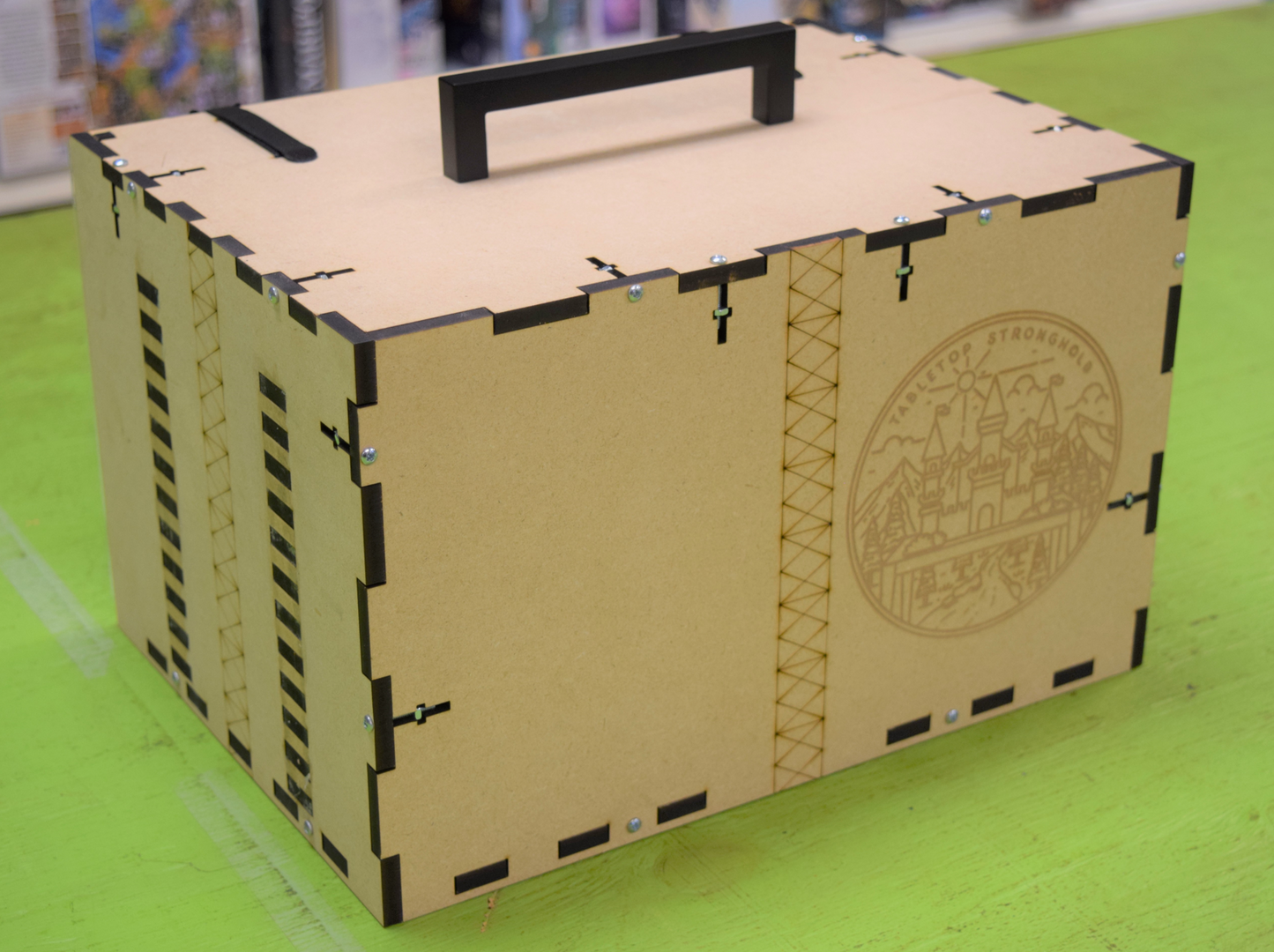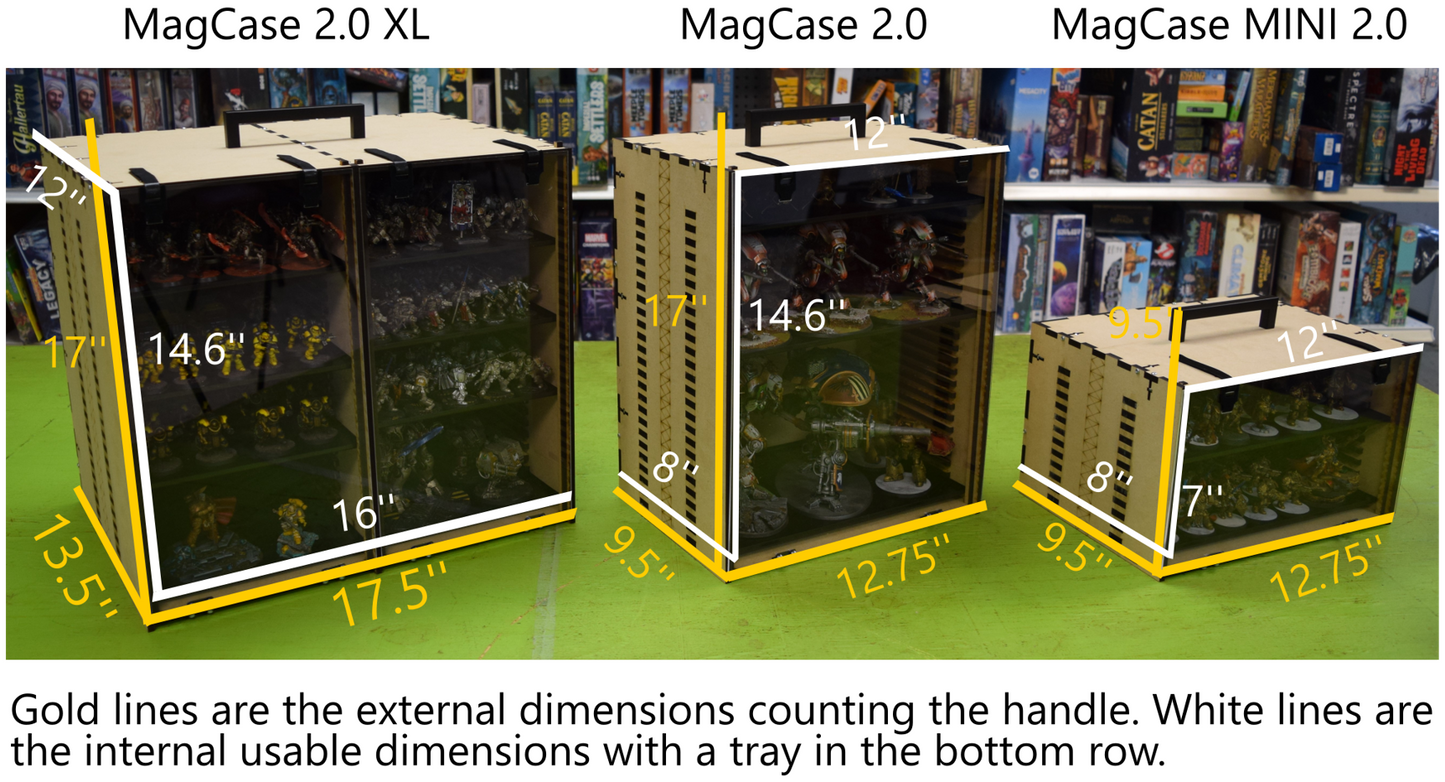 Nearly Perfect
I ordered the Mini 2.0 at the start of the year, it arrived in a timely fashion once it was shipped out. Assembly was easy in following the instructions online. The case itself looks fantastic once fully built. I absolutely love that it comes with a set of magnets ready to be attached to the bases of figures. The only two issues i've had so far, The first being that the lowest shelf guide, on the left hand side of the case was missing, thankfully i had something at home that was just the right height to prop up that end of the tray inside the case. And the other, not so much an issue, just what I've noticed, the case still has a lingering scent of charred wood.
I fully intend on picking up some of the larger cases when i have a need for them.
MagCase MINI 2.0 MDF Magnetic Carrying Case / Display Case For Miniatures
Mighty little case
A while back I was looking for a case to help transport my skirmish game minis and my armies for smaller scale games with my mates, and this one fits the bill nicely. It was really easy to assemble and it's very sturdy. Looking at buying a larger one for storing more minis and transporting larger armies. Definitely recommend!
Great Little Case
Fits a SW Legion AAT Tank on the bottom shelf with enough space for a top shelf of small-base units. Works great for carrying around the army.
Excellent case
I really like this case. I knew it came needing assembly... Sometimes, building utilitarian objects, like scenery or furniture, feels like a chore. This did not. It was fun to build, it feels sturdy, like if you dropped it it could take a bit of a punch. The company worked with me on ordering a few extra trays to stack more 6mm and 10mm miniatures inside, overall very very pleased. Great product.
Collapsible content
SHIPPING

Orders are usually shipped within 1-4 business days and shipping on all orders in the USA is free!